Hey ya'll guess what? I have been chosen to be the "Life of the Party" over at
So excited.. link up and come party with us!
Here are the "rules"
(Don't make us post bouncers at the door.)
Follow your Hostesses -

Christine and Janene from More Than Mommies

Follow our Co-Hostess -

Stephanie at WhenCrazyMeetsExhaustion

Follow the Life of The Party -

Ellen at Bad Word Mama!

We will choose our Next LOTHP from those who link up their twitter handle. Use our hashtag #MTMmixer when tweeting so we can keep up with you there! We would still TOTALLY appreciate a shout out on Twitter if you don't mind!

Follow our Mixologists - This week our Mixologists are

Courtney and Julie at The Chirping Moms.

Every week we will choose one participant to get our party started at the #4 slot. All you have to do is link up under the first Linky (and follow the "rules") to be considered!

Follow the person directly BEFORE you on the hop!

Finally, we ask that you post one (or both!) of the following buttons in either a post or on your sidebar to let other people know where you are partying today!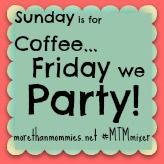 Link up your Blog Here: Link up your Facebook Page Here: Link up your Twitter Handle Here: Link up your Pinterest Boards Here: Link up your Instagram Feeds Here: